Look what I set up ALL BY MYSELF yesterday. (hint: it's big and white and hangs over our deck.) Yeah, buddy, I did it all. From screwing in the nuts and bolts to getting those super heavy concrete blocks at a local nursery, from start to finish, D-O-N-E by M-E. Can you tell I'm pretty proud of that accomplishment? Truth: it really wasn't hard. I bought the umbrella at Ikea yesterday and there were like literally five steps and that puppy was up. But it's still pretty impressive, right? (thank you, I felt that virtual pat on the back)
I've been wanting a new umbrella for our deck for a while now. We've never had a proper one. The one we inherited from my parents had a busted stand and looked pretty pathetic hanging all crooked-like. So when I was at Ikea yesterday and saw this umbrella, I was all over it. And couldn't believe the price. Did you know Ikea has a ton of outdoor entertaining stuff? Man, that place has it all! They even have these solar lamps that would be great for evening entertaining. They think of everything. So yeah, if you're in the market for some new outdoor furniture or any outdoor entertaining items, check 'em out. Good stuff and even better prices.
Now that I have a new umbrella, I need to focus on seating for our outdoor space. I'm kinda strugglin' in that dept. While I do enjoy the look of our rustic green bench, it's not very safe. You feel like you're going to fall backward when you sit down. Not a good feeling.
And don't even get me started on the chairs.
Although, maybe I'm on to something here. Did you guys happen to see the "new look" that Restoration Hardware is promoting? It's called the deconstructed look.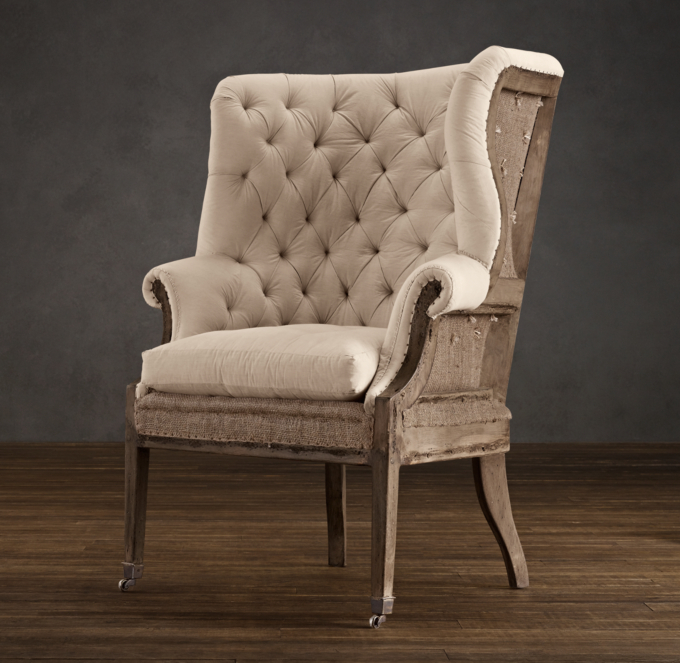 Here's the back.
So I don't know...mine doesn't look half bad next to that.
Oh and I'm thinking about painting that red playhouse. I've never really been a fan of that red color (even though we painted it like two years ago) so I'm thinking something more neutral that'll fade into the background. Any thoughts? I'm on this gray kick right now so that's what's in my head. Maybe a green? Like olive/brownish green? What's your vote?
Mitch's last hockey game of the season is tonight. Championship, baby! So we're planning on going (even though it starts at 9:00--yikes!) So can I get a "LET'S GO, FARMER BOY!"?
(sweet name, right? Welcome to Lancaster County.)