I'm totally bummed. I bought two of these
lamps
at Lowe's a while back. When I saw them, I thought they looked sweet--milk glass, delicate, white, perfect for bedside lamps.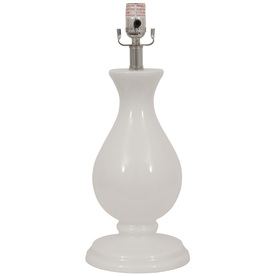 Fast forward a few weeks and I went to Lowe's again (big surprise) and they were on clearance. Score for me! So I bought two of them, intending to use them beside our bed when we finally move into our new room. Well, long story short, one of the dang things broke. Not happy. So screw the bedside table idea--I put the good one
downstairs
beside our couch. And it made me feel a little bit better when I had it all set up.
So moral of the story: don't bust your milk glass trying to make your house look nice.